News Roundup #003 covers the latest Minigun and Crossbow patches, Valentine's Day & Alpine Ace skins, Shooting Test #1, Dev Tracker & much more.
---
Patch V2.4.0: Minigun & Spectator Count
Patch V2.4.0 was released last Friday and brings a new weapon to the game: the Minigun.
Found in Chests and Supply drops
Fires almost as quickly as SMG
Uses Light ammo
The new patch also brings a spectator count feature to the HUD. Players now have the option to see how many active spectators are currently watching them grab that precious Victory Royale.
---
Patch V2.4.2: Crossbow & Valentine's Day Skins

V2.4.2 is dropping today with a new long-range weapon, the Crossbow, Valentine's Day themed skins and changes to Shooting Test #1.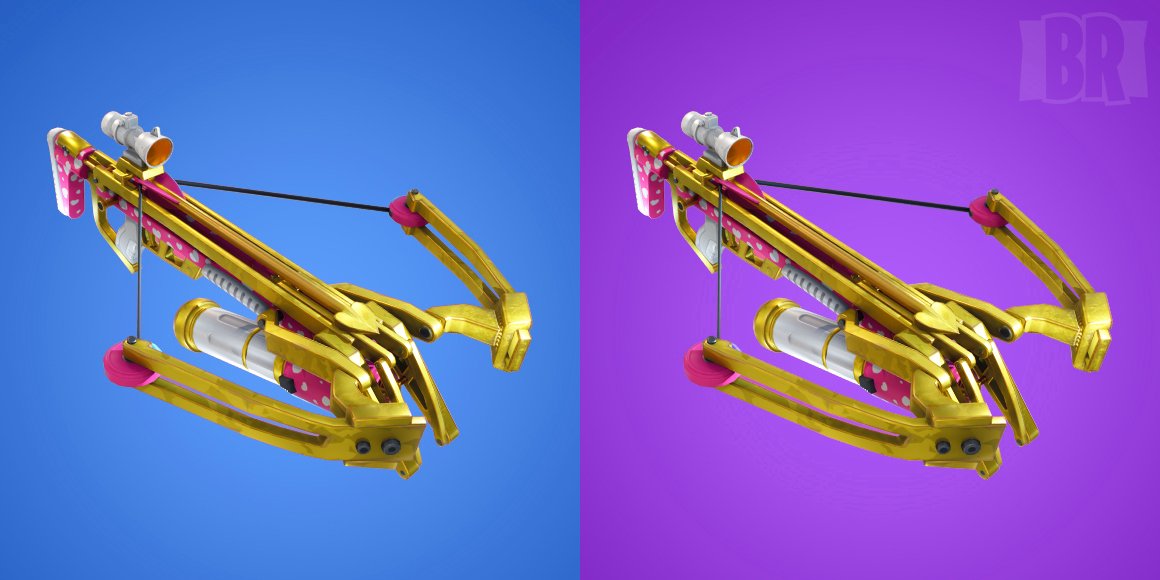 This weapon fires Arrows, which are an unlimited ammo type.
Found from floor loot and treasure chests.
This weapon comes in both Rare and Epic variants.
---
Shooting Test #1

Shooting Test #1 is now live as a Limited Time Mode.
Epic hopes to address certain issues affecting the shooting gameplay of Fortnite Battle Royale such as bloom/bullet spread inconsistencies. All players are encouraged to participate and provide feedback throughout these tests.
---
Alpine Ace

The Alpine Ace outfit appeared in the Featured Item Shop earlier this week. The new skin comes with 8 different variants representing countries such as Germany, South Korea, Canada, China, USA, France & Great Britain. Each variation is purchasable as a unique skin for the price of 1,500 V-Bucks. The Ski Boot pickaxe completes the [Winter Ski Set].
The Alpine Ace skin will be back in the Item Shop in the near future.
---
Featured Item Shop – 07/02/18

– Raptor (Outfit – 2,000 V-Bucks)
– Chomp Jr. (Pickaxe – 1,500 V-Bucks)
Images provided by fnbr.co
---
Dev Tracker
–
V2.4.0 Delay
2.4.0 was initially slated for release on Thursday, February 1st before it was pushed back to the following evening. MrPopoTFS explained the reasons behind V.2.4.0 delay:
We hear your concerns regarding bugs that you are experiencing since V.2.3.0, especially those regarding building. It's taking us longer than expected to fix these issues and we're working through some major ones. If we're unable to fix them today the v2.4.0 release will be delayed. Once we have a better idea of when the patch will arrive we'll update everyone.
In order to help make building feel better we'll be reverting to the building bar system that was present in V.2.2.0. We intend on finding a more permanent fix to make building and item selection feel more crisp in the future. We've also added some tools to help us better diagnose in-game issues when new bugs do arise.
Be sure to check the patch notes again because we've added more items to the "Known Bugs" section. In addition to that, we've also created a "Fixed Bugs" section to inform every one of the immediate fixes we've done that delayed this patch.
Note: We have bugs that will come in with the v.2.4.0 release, see the Known Bugs section at the top of our notes for a full list. Please continue to let us know about anything new you find once V.2.4.0 does release
Thank you for your continued patience.
Regarding the much-discussed "building" bug, he added:
The V.2.4.0 patch contains a revert back to the V.2.2.0 version of the building bar system (fewer bugs), which should resolve some of the building issues you've been experiencing. We intend on finding a more permanent fix to make building and item selection feel more crisp in the future.
–
Downtime Compensation
As promised, Epic compensated Fortnite players following V2.3.0's server downtime. MrPopoTFS gave out details regarding compensation:
We told you we appreciate your patience with some of the issues we've had after releasing V.2.3.0, and we meant it. In recognition of that patience, we are going to be providing some goodies to both StW and BR players. Want specifics? Find out below:
Battle Royale:
– 20 Battle Stars toward your Battle Pass progression.
You can expect to receive this compensation sometime after Patch V.2.4.0 releases.
–

Chests Sound Improvement
Chest sounds will be improved soon, as Sweedinmusic explained:
Something we're looking into improving! One thing that is not helping is that right now the volume attenuation is based off the camera's location, rather than the player. This is changing soon, so as you whip your camera around the sound volume will stay consistent (but will get a bit louder if you're looking at it).
– Account Security
MagmaReed has compiled an extensive post on account security following a recent increase in hacked accounts. Here's a small excerpt:
Shared Passwords
Though it's common to use the same password across multiple Internet sites, this is a dangerous practice and should be avoided. If one of those sites is compromised, hackers can use your email and password from that site to break into your account on other sites using the same password.
Here's what happens: Attackers frequently download password dumps – lists of username/password combinations -from third party sites and use credential stuffing to find out what other websites those credentials work on. When they are successful at logging in to those accounts, they see what trouble they can create for the account holder. In many cases, that appears as fraudulent V-Buck purchases.
Fake Fortnite Offers
We've seen several instances of account theft and fraud related to websites that claim to provide you free V-Bucks or the ability to share or buy accounts. Please never share your Epic account details with anyone. Epic will never ask you for your password through email, social media, or a non-Epic website. Groups claiming to provide special Fortnite deals this way are fraudulent.
> Read the complete Security Bulletin post right here.
V-Bucks Giveaway
We are throwing a 1,000 V-Bucks giveaway as an early Valentine's Day gift. Click on the tweet below and follow the instruction to enter.
How about an early Valentine's Day gift? We're giving out 1,000 V-Bucks to a lucky follower. To enter:

– Follow @LootLakeBR & enable notifications
– Retweet
– [Bonus] Join our Discord: https://t.co/eYUkGPJ4um

Ends tomorrow Friday 9th, good luck! #Fortnite pic.twitter.com/QALgVl9pQq

— Loot Lake – Fortnite Battle Royale News (@LootLakeBR) February 8, 2018
---
Clip of the Day



TSM HighDistortion celebrates his sneaky trap kills with the brand new "Flipper" dance:
Perfect use of the new "Flapper" dance move! 🕺💃

(Source: @HighDistortion_) #Fortnite pic.twitter.com/N71XhAxXux

— Loot Lake – Fortnite Battle Royale News (@LootLakeBR) February 8, 2018
---
Loot Lake Discord
Are you on Discord? Come hang out on the LootLake.net Discord server!