News Roundup #004 covers the latest Fortnite Battle Royale news including Patch V3.3.0, Fortnite on iOS, the Party Royale Celebrity Pro-Am, and more.
---
Patch V3.3.0: Remote Explosives & Supply Llamas

Patch V3.3.0 was deployed on Thursday. The latest update adds Remote Explosives and Supply Llamas to Battle Royale as well as Xbox One cross-play.
Remote Explosives
Stacks of 4 (up to 10)
High damage against environment
Detonate from anywhere in the map
Official teaser for the latest addition to #Fortnite: Remote Explosives!

Full V3.3.0 Patch Notes: https://t.co/SB0wsASOXl pic.twitter.com/zb1S2m1fwh

— LootLake.net | Everything Fortnite BR (@LootLakeBR) March 15, 2018
Supply Llamas
Extremely rare – only 3 per match.
Location is chosen at random.
 Contains: 500 Wood/Stone/Metal, 10 stacks of each ammo type, 3 traps and consumables.

>> Click to read the full V3.3.0 Patch Notes
>> Click to learn more about Xbox One cross-play
---
Fortnite Release on iOS
The first version of mobile Fortnite has been released on the iOS App Store. The event is still invite-only as Epic Games are gradually sending out invitations. To participate, you'll need an iPhone 6S/SE, iPad Mini 4, iPad Pro, iPad Air 2, iPad 2017 devices or later.
>> Haven't signed up yet? Find out more with our complete Fortnite iOS Event Overview.
#Fortnite V1 on iOS gameplay: https://t.co/myOhQFsuRO pic.twitter.com/kdSk1jKPcw

— LootLake.net | Everything Fortnite BR (@LootLakeBR) March 15, 2018
---
Party Royale Celebrity Pro-Am

Epic Games announced that they will be hosting the first Fortnite Party Royale Celebrity Pro-Am tournament in Los Angeles during E3 this year. This special event will feature no less than 100 competitors, pairing 50 celebrities, including world-class musicians, athletes and entertainers, with 50 other top Fortnite players from around the globe. From the official announcement:
"Teams will clash in the premier Fortnite Celebrity Pro-Am in Los Angeles during E3. One team will rise to the top for ultimate bragging rights. Who will claim Victory Royale? We'll soon begin building the teams, so stay tuned for more information on the event."

---
Drake & Ninja Set
Twitch Record

Late Wednesday night, rapper Drake teamed up with popular streamer Ninja for a few games of Battle Royale. Fellow rapper Travis Scott and NFL player JuJu Smith-Schuster also joined in the fun a few moments later. The event garnered more than 625,000 concurrent viewers at its peak, shattering the previous record of 388,000 viewers set by Dr DisRespect.
"Ninja and Drake's Fortnite livestream on Twitch attracted 628K concurrent viewers, setting a new milestone in terms of peak concurrent viewers on an individual's channel," said Kate Jhaveri, SVP Marketing of Twitch. "Seeing a top gamer and musician come together on Twitch and unite their large and passionate communities is a cultural moment in terms of building awareness around the appeal of social video and it's only going to grow from here."
---
Featured Item Shop – 16/03/18
– Pot O' Gold (Pickaxe) – 1,200 V-Bucks
– Sgt. Green Clover (Outfit) – 800 V-Bucks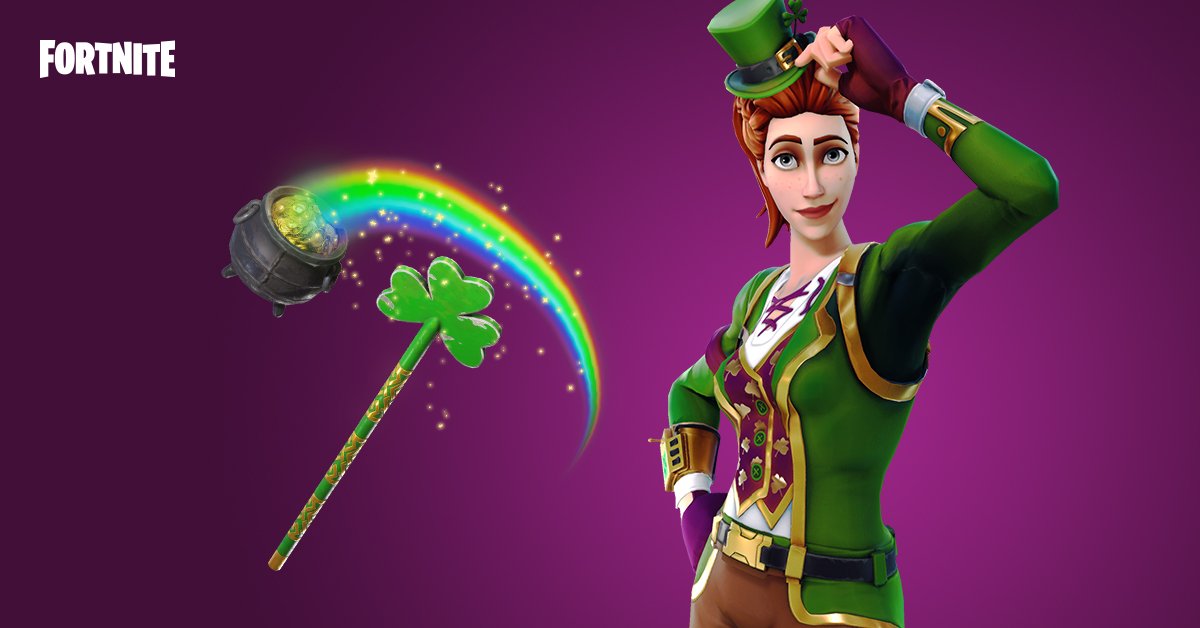 >> Click to discover upcoming cosmetics: Cosmetics Sneak Peek #002
---
Battle Pass Week 4 Challenges
Another week, another set of Battle Pass challenges! Here are our tips for this week's quests:
---
Clip Of The Day



Dakotaz (Twitch, Twitter) with 1HP and a dream:
1HP AND A DREAM pic.twitter.com/wT09ofkks8

— dakotaz (@dakotaz) March 14, 2018
---
LootLake.net Discord
Are you on Discord? Come hang out on the LootLake.net Discord server!